Enter your company name or words related to your business here to start searching.
Searching…
The main feature of our site is our unique search tool and this section explains a little more about how to get the most out of it.
HOW to search for numbers?
Large companies are good at providing the service but they have to be everything to everyone, and it takes more effort and specialized tools and marketing experience, to find really good numbers today. When there were plenty of numbers available you could just ask for and get whatever number you needed. Fast forward 20+ years and 40+ million customers later and just like domain names, you can't expect to get an obvious generic toll free number. You won't get your first choice today, which means you have to be more creative and more thorough to be sure you've found the best available number than you did when your first or second choice was available.
Start with the Lookup tool on the top of the page at TollFreeNumbers.com
The main feature of our website and service is the Toll Free Search Engine on the top of the page at TollFreeNumbers.com. Start by entering a word or phrase and it'll show you the exact match if it's more than 7 digits. It'll show a few available numbers that contain it if it's less than 7 digits and there are any. Then below that you'll see any related options available by adding additional words or numbers. You'll have to scroll through the options, but you'll see numbers in Disconnect and Available, possibly some True800 #s, and Premium #s too.
In Use means NOT Available
There's a section on how to Dig Deeper. when the number you want isn't available but just know that it's not available and it's EXTREMELY difficult to get a number that's NOT Available. I like to say it's kind of like asking out a married woman. It's a real long shot at best. And a whole section called Marketing that covers WHAT to search for so we won't go into that here. This section is about HOW to Search for a number.
Numbers in disconnect are coming soon. They're not available right now but will be soon and if you backorder it we'll wait and try to grab it for you the second it comes out! They take more time and effort so they're more than the available numbers that are $49 and available right away. Numbers in disconnect are also not guaranteed until they come out and we get them for you and you ONLY pay for it if we're able to get it for you.
Use Shorter Keywords and Longer Phrases
Don't limit yourself to 7 digits. Think in terms of a keyword and let the computer combine it with all the related terms. Even your company initials, anything as long as it's at least 3 digits or more. Putting in the letters instead of the numbers allows the computer to relate it better to more words or phrases.
Extra digits
Anything after 7 digits is ignored. You can put anything you want after that to make it easier to remember but they really don't count or matter. Just like the R in 800-MARKETER. It's just there to make it easier to remember. You can put anything after the first 7 digits you want or need to, to make it memorable. You might lose an occasional user that doesn't get through and doesn't see what the issue is, but you'll lose a lot more by not having the right message in your number than you will having it more than 7 digits.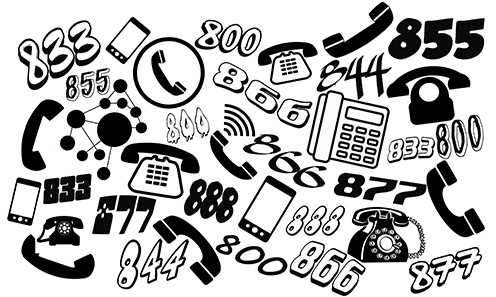 There are 6 toll free area codes and a 7th coming soon
800, 888, 877, 866, 855, 844, and in April 2017, 833 will open. They are all toll free and all work exactly the same from a technical stand point. The only difference is the public's recognition and impression. An 800 number is harder to get and gives more credibility, and a big company image. If it was just as easy to get an 800 as any of the others it probably wouldn't give any more credibility. The newer area codes work fine but look newer.
People often ask if it's more important to have an '800' or to have the right words. Overall I think the message usually is the first priority, but I always say be creative because there are a lot of other options too. If you're a new high tech start up or using a number with your name in it, the newer or more personal image works fine. If you're trying to look like a fortune 500 company, it's probably more worth the extra to get the credibility of an "800". It depends on how important that credibility is to your sales process. There's no one answer for everyone. Most people are somewhere in between. We all know what we want but often have to take what we can get too.
Our Additional Info
We have done more research and provide more information about numbers than anyone else. We include the phone company for each number, the status, any search or usage data, how quickly it was taken in the 855 release, the 844 release, Trademarks, domain names and company names as well as any words or phrases spelled with that number. We basically show you everything we know about the number in the Info section.
Toll free area codes: 800/888/877/866/855/844 (and coming soon: 833)
Two things to Avoid
The first is the FREE toll free number trap. As the saying goes there is no FREE lunch and that's very true here too. There are companies that claim to give you a toll free number for free with their web hosting or virtual office phone system. Then after you've advertised it and printed it on all your labels and your customers are used to using it, you find out that you can cancel the service but you can't take THEIR toll free number with you if you want to go somewhere else.
Even if they're not holding you hostage as bad as that, they're not giving you the toll free number out of the goodness of their heart, they're giving it to you to sell you the service that they get a commission on. So they may sound cheaper or even free, but they're not. It doesn't take very many months of their service to add up to more than the cost to OWN it with no strings.
Be careful where you SEARCH
Most other websites are watching you and will automatically reserve whatever number you find that was available, so you have to get it from them. It's very underhanded and a big red flag to avoid that company. You may be able to wait until it drops off of reserve but that can be up to six weeks. If this happens to you, contact us and we'll try to watch and get it for you.
Warning: Searching for #s on other websites may attract the phone number sharks!
We've helped tens of thousands of customers get great numbers over the past 25+ years
"Your group are a well oiled machine and it is obvious that your goal is to do your best for each and every one of your customers. My experience with you has been picture perfect. I look forward to doing more business with you in the future."
Royal Chamberlain
Provo, UT
"The website is user friendly and has a large selection of numbers. It was easy to get the number that fits our needs. Thanks for good Customer Service."
James Rathel
Tampa, FL
"As a repeat customer, I have been very happy with the selection, cost and speed in getting a great toll free number from TollFreeNumbers.com (1 800 MARKETER). We have received White glove treatment with every interaction. THANKS!"
Jay Griffiths
Schaumburg, IL